We are Northern Illinois Car Accident Injury Lawyers.
With the slam on the brakes or running of a red light, your whole life can change. Perhaps the other driver had just one too many drinks. They could've taken their eyes off the road for a split second, just to look at their buzzing phone on the passenger seat. Maybe they took their hands off the wheel to change the radio station. Maybe they dozed off at the wheel.
But that could be all it takes to cause a car crash. That split second, that mere mistake; that's all it takes to cause injuries to passengers and endless worry for families. The doctor's appointments, surgeries, time off work, and more could've all been avoided.
Thousands of auto accidents happen every year leaving surprised passengers and cautious drivers with injuries and stress. With this number in mind, it may seem like not much is in your control. However, what is within your control is how you handle your car accident injuries. 
Take control of your recovery and fight back.
You were injured because of someone else's road negligence. Call one of our personal injury lawyers and fight for the financial compensation you need and deserve. Your health is worth it.
We're Advocates for McHenry County & Boone County
In 2012 in McHenry County, Illinois there were 4,708 reported auto accidents. This means thousands of families were affected and their lives disrupted. If your family has been affected by a car wreck injury or fatality, you understand the disruption we're talking about. Regardless of how the car crash happened–rear-end collision, head-on accident, overturned vehicle, etc.–an auto accident isn't something you can recover from overnight, despite the continual pressure from the insurance companies.
After a car accident, you may think insurance companies are there to help you. That's what you pay them for, right? You pay them to cover the injuries and the damage when accidents occur. Their financial assistance may not be what you need or deserve, especially when it is coming from the accident causer's insurer. Know that you're not receiving everything you need nor what you deserve.
As car accident injury attorneys at Franks Gerkin Ponitz Greeley, we're here to make sure you get the financial compensation you deserve after you or your family member has been injured in an auto wreck.
Was the accident my fault?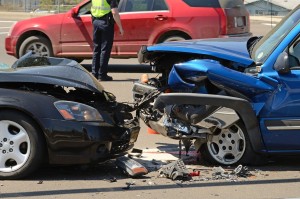 Because of the quick and volatile nature of car accidents, injured drivers frequently come out of it with one resounding question: did I cause the crash? Was it my fault? It's human nature to ask those questions, but it is those particular questions that stop many people from seeking legal help when they truly need it.
Don't hesitate to call a personal injury lawyer. Don't assume fault for an accident before you know all of the facts. There are so many circumstances that could cause a car accident, and sometimes it is not just one person's fault.
Automobile defects, poor weather conditions, construction, bad road conditions, and medical issues; there are many factors that could result in a car accident. It is extremely important that you speak with a personal injury attorney after your car crash, even if you really think that it was your fault.
There is absolutely no harm in contacting our car accident injury lawyers. None, zip, zero. We mean it. You will not need to pay us unless we win compensation for you. Call our Northern Illinois law office today and start your road to financial, emotional, and physical recovery.
We Take an Aggressive, Proactive Approach to Car Accident Injuries
Our car accident lawyers are approachable but aggressive. We'll sit down and speak with you about your accident and explain your options. Then, we'll take action. The trauma and aftermath of any serious auto accident can be overwhelming, but we'll do everything we can to decrease the effect it has on your life.
Many people are ultimately let down when they trust insurance companies to address their needs in an extremely challenging time. At Franks Gerkin Ponitz Greeley, our overriding goal is to step in and help you deal with all legal and financial aspects of your car crash or truck accident so that you can focus on recovery.
Whatever the circumstances of your injuries and the insurance coverage that may apply, we encourage you to contact us to discuss your Northern Illinois car crash. There are many critical steps to protecting a car crash victim's rights, and they differ depending on the situation.
Was there a pedestrian involved?
What about a commercial vehicle?
Do you have a pre-existing medical condition?
Was your driver's license restricted?
The personal injury attorneys at our McHenry County law firm have handled cases involving all these scenarios and more; we know the nuances. Because we've worked with many families, we have the experience and the confidence to take a unique, calculated approach to your Illinois personal injury claim. We're proactive; if we end up needing to go to court, we've been ready from day one.
Our representation of your interests will be comprehensive, as we:
Send out an investigative team capable of uncovering facts that are often absent from police reports. This includes data from onboard vehicle computer systems and relevant witness testimony, amongst other pieces of evidence
Dive into all issues related to insurance coverage, such as the policy limits of liable parties and your own uninsured motorist coverage;
And consider all possible means of recovery for you and make conscientious recommendations regarding result, mediation, or trial.
You will not owe attorney's fees unless we win compensation for you. Contact our law office today to take an important step toward obtaining the favorable monetary outcome you need and deserve.
Let our family fight for yours because we're more than ready to do so. We're aggressive. We're compassionate. But we're approachable. Let's work together after your car accident and find the best possible route of recovery for you as well as your family.
Additional Car Accident Injury Resources