We Are Your Family's Law Firm.
The odds are stacked against you. When the going gets tough, whom do you want on your side? You're in the thick of adversity; you've been knocked down once, but you won't be knocked down twice, not with the lawyers at Franks Gerkin Ponitz Greeley on your side.

Franks Gerkin Ponitz Greeley stands for justice–we are the equalizers. We fight for the well being of McHenry County, Illinois and we've done so for over 50 years. We are the legal team you want to advocate for you and your family.
Learn More
I recommend Franks Gerkin Ponitz Greeley to anyone. Communication and the way I was treated was great. They would even contact me after hours to keep me informed. Herb was great and both went above and beyond. I worked with one lawyer before and it may take up to 2 weeks to get an answer. He explained all the details of the settlement. I was happy with the final result and was very pleased.

I called Franks Gerkin Ponitz Greeley because I have known the Franks for several years. When I called the office, the receptionist directed me to Terry McKenna. He called me back the same day to schedule an appointment. Within a few days, I received a copy of my will. It was all-inclusive and comprehensive. Today I met with Terry and he answered all my questions Everything was all set and I was very pleased.

A friend referred me to Franks Gerkin Ponitz Greeley. I did talk to other attorneys first and then came here. I am so glad I did. I was very happy with the settlement. There was good communication between me and Peggy and Herb. Herb did the final negotiations kudos to him for getting the job done. I was happy with the final settlement. Peggy was great she pulled it all together for me. I live in McHenry and would recommend Franks Gerkin Ponitz Greeley.

To start, the service to the client at the attorney's office of Franks, Gerkin Ponitz Greeley is exceptional. The waiting area is comfortable and elegant. They have private conference rooms where you can expose your case in complete confidentiality. Attorneys that are experts in whatever field you need. Qualified and very professional and willing to provide options and solutions for whichever your case may be. They direct you, they support you and they represent you. They assist you in your language. The Legal Assistant Annalee Rocha Davila interprets your case in the most precise and sure way with the luxury of not missing any important details, because as you know, in legal cases the most minimal details can be very relevant at the hour of resolving with satisfaction your legal matter with an optimal outcome. Recommended 100%.

I was hurt at work and was recommended by a co-worker to talk to Herb at Franks Gerkin Ponitz Greeley. I had not worked with attorneys before. Herb called me back and kept me updated along the way in an easy to understand manner. I was "absolutely happy" with the settlement and would definitely recommend Franks Gerkin Ponitz Greeley.

You guys are great! Herb answered all my questions on my case. He returned my calls within 20 minutes. Franks Gerkin Ponitz Greeley is a one-stop shop for me. They have worked on wills, traffic tickets and injury cases. Thank you!
Read Testimonials
Personal Injury
You were at the wrong place at the wrong time, and now your life has changed. Whether your family has been affected by a car accident, truck crash, or other injury-causing event, seeking compensation for your injuries is in your best interest.
LEARN MORE
Workers' Compensation
When you're suffering from a workplace injury or illness, it is crucial that you speak with an attorney, and quickly. The State of Illinois protects you from the long-term consequences, but you can't navigate this complicated system by yourself.
LEARN MORE
Trustworthy Lawyers
At Franks Gerkin Ponitz Greeley, we have strong family ties to Marengo, Illinois and to the greater McHenry County area. Because of our deep roots in the area, we are that much more passionate about serving the people here in this Northern Illinois community. And we take the time to give back to our community in more ways than one. You're in trustworthy and great hands with our lawyers.


With Over 50 Years of Experience, We Are the Legal Team You Want in Your Corner to Fight for You and Your Family. Learn More Here.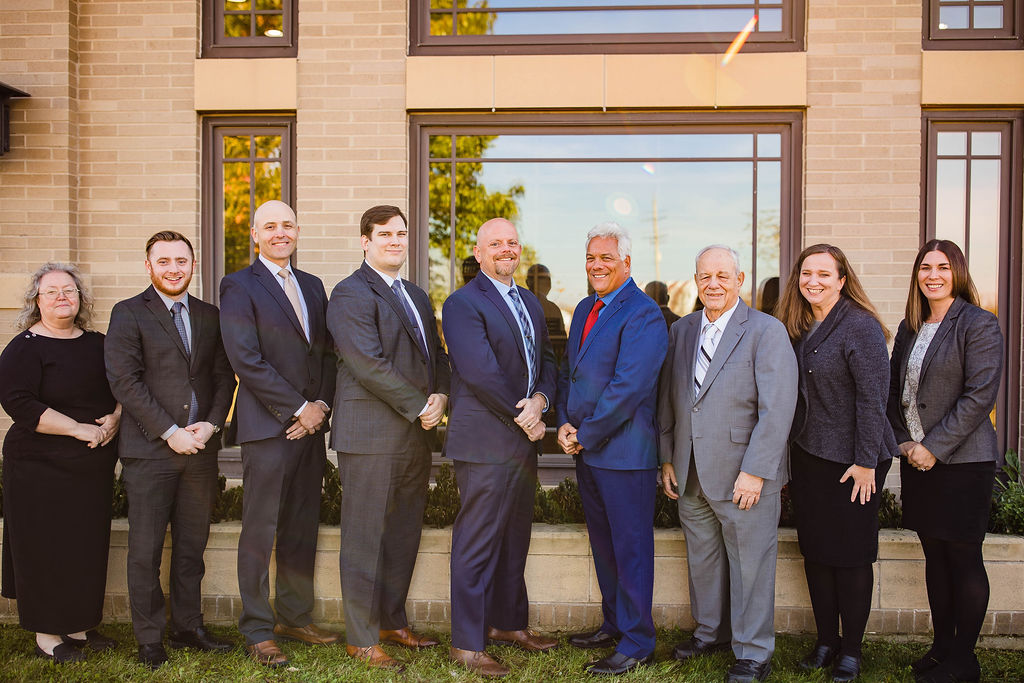 Request a Consultation Today