Motor vehicle accidents are one of the most commonly cited causes of serious personal injuries in DeKalb County and throughout the state each year. These accidents happen for many reasons, but the most often reported cause is distracted driving. Every driver has a duty of care to operate their vehicle responsibly and attentively at all times. Unfortunately, many drivers willfully choose to engage in distracting activities while operating their vehicles, and cell phone use is the most prolific example of this.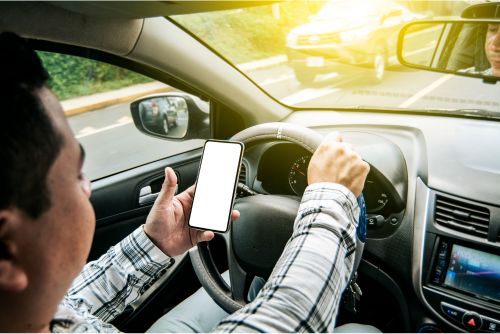 Experienced Legal Representation for Distracted Driver Accident Claims in Dekalb County, IL
Whenever a distracted driver causes an accident, they can easily inflict life-changing injuries on others and cause tremendous economic losses. If you or a family member recently suffered such an accident, it is easy to feel lost when it comes to determining fault for your damages and how you will collect compensation for the losses you suffered. The right attorney is an invaluable asset in this situation.
Franks Gerkin Ponitz Greeley is a team of seasoned DeKalb County car accident attorneys who have helped many clients recover from damaging vehicle accidents, including those caused by distracted driving. We know how to gather the evidence you will need to firmly establish liability for your damages and hold an at-fault driver accountable for the harm they've done. Whatever your case entails, you can trust our team to provide ongoing support and guidance through all stages of the recovery process.
Benefits of Hiring a DeKalb County Distracted Driver Car Accident Accident Attorney
It is technically possible for you to pursue recovery from your distracted driving accident without hiring legal counsel. However, you could face both an insurance claim filing process and a civil suit against the at-fault driver, and success with both of these matters is more likely when you have legal counsel you can trust on your side.
If you tried to manage your recovery efforts on your own, you would be forced to contend with complex legal issues and strict court filing deadlines while also managing your medical needs. You could overlook crucial details of missing critical pieces of evidence that make it harder for you to assert liability for the losses you suffered. It is also possible to mistakenly settle for far less than you rightfully deserve due to a lack of awareness of your rights.
Choosing an experienced DeKalb County distracted driving accident attorney to represent you will dramatically improve your chances of success with all of the recovery efforts you pursue after your accident. The right attorney will handle evidence gathering and meeting the initial procedural requirements of your case so you can focus on your medical issues. You are more likely to win your case and more likely to maximize your total compensation when you have the right legal team handling everything on your behalf.
How to Prove Liability for a Distracted Driving Accident in DeKalb County
The state uses the fault system to resolve car accidents. This means that determining liability for your recent distracted driving accident is a vital first step toward recovering compensation for your damages. You must identify the driver who caused your accident and, through leveraging available evidence and witness testimony, prove that they directly caused your claimed damages.
Any driver who is distracted behind the wheel violates their duty of care to operate their vehicle safely, responsibly, and attentively. However, it can seem difficult to prove that the driver who caused your recent accident was actually distracted behind the wheel. Your DeKalb County distracted driving accident attorney will be invaluable for gathering the evidence you will need to assert liability for the accident you experienced.
Your attorney is likely to seek the at-fault driver's cell phone records if they were texting while driving or otherwise distracted by their phone when they should have been paying attention to the road. These records can show their phone was in use at the moment of impact. Vehicle computer data and traffic camera footage can also be crucial for proving fault in a distracted driving accident. If any witnesses saw the accident happen firsthand, their testimony could be invaluable to your case.
Filing Your Auto Insurance Claim After a Distracted Driving Accident
After you prove liability for your distracted driving accident, filing an auto insurance claim against the at-fault driver is likely to be your first option for recovering your damages. Illinois law requires every driver to have personal auto insurance, and this insurance must include the following:
$25,000 minimum to cover bodily injuries to a single person.
At least $50,000 in total accident liability coverage for injuries to multiple persons.
$20,000 or more in property damage liability coverage.
Although not required by law, drivers are encouraged to purchase additional uninsured motorist coverage. If you have this coverage option and an uninsured driver causes an accident with you, you can file a claim against your own policy for some immediate compensation following the accident, and this will not cause your insurance premium to increase. Otherwise, if the at-fault driver does not have insurance, you will need to proceed directly to filing a personal injury suit against them.
If the at-fault driver does have insurance coverage, you have a very limited time in which to file your claim. At the very least, you must notify their insurance carrier of your accident and your intent to file a claim within a few days of the accident, sometimes in as little as 48 hours. Notify the insurance carrier of your intention to file your claim but do not discuss a settlement without consulting your DeKalb County distracted driving accident attorney. They will review the at-fault driver's policy and make sure that the insurance carrier handles your claim in good faith. Once you receive your settlement, you can proceed with further legal action if the at-fault driver's insurance cannot fully repay your damages.
Claiming Compensation With a Personal Injury Suit in DeKalb County
Under the state's personal injury laws, the party responsible for causing your accident is liable for all resulting damages. After recovering as much as possible through the insurance claim process, outstanding damages not covered by insurance can be sought from the at-fault driver with a personal injury claim.
Success with any personal injury claim requires evidence that the defendant directly caused the plaintiff's damages. The plaintiff must show proof of the full extent of their damages and prove that they could not have resulted from any other cause. The damages you can seek from the defendant include the following:
Medical expenses. If you sustained physical injuries due to the defendant's distracted driving, they are liable for any medical care you need to fully recover from your injuries. You have the right to seek compensation for both immediate and future medical treatment you will need to reach maximum improvement from your injuries. The medical expenses you can claim may include hospital bills, prescription medication costs, ambulance transportation fees, and the cost of future rehabilitative care.
Lost income. Many people injured in car accidents cannot work while they recover from their injuries. If this applies to your case, your attorney can assist you with holding the defendant accountable for the money you were unable to earn during recovery. This extends to lost earning power in the future as well. If the defendant seriously injured you and you develop a permanent disability that prevents you from working, they are liable for the future income you will no longer be able to earn.
Property damage. Your insurance claim against the defendant may cover some of your vehicle repair costs and other property damages, but any remainder needs to be included as economic damages in your personal injury suit.
Once your attorney helps you calculate the full amount of immediate and future economic losses you can include in your claim, you may be surprised to see that your case is worth more than you expected. However, Illinois law also allows you to seek pain and suffering compensation from the defendant.
Proving Pain and Suffering in a Personal Injury Case
The average person is likely to find it difficult to assign a monetary value to concepts like physical pain and emotional distress. It might seem difficult to prove the true extent of the psychological distress, physical pain, and emotional trauma you underwent because of the actions of the defendant, but your attorney can assist you in making a compelling case to ensure maximum compensation.
In the state, there are no limits on pain and suffering compensation in motor vehicle accident claims. The plaintiff must determine an amount that reasonably reflects the seriousness of the harm they suffered and any long-term issues they are likely to face due to the defendant's actions. Their attorney may seek a settlement based on the time it takes them to fully recover from their injuries, or they may aim for a large lump sum to reflect the permanent harm their client has suffered.
Other Variables That May Influence Your Case Award for a Distracted Driving Accident
Your DeKalb County distracted driving accident attorney is the most valuable asset you have for enhancing your case award as much as the law allows. The state's personal injury statutes enable you to seek full repayment of all the economic losses you suffered as well as pain and suffering compensation with no top limit. You have the right to hold the defendant fully accountable for the results of their negligence. However, it is possible for a judge to determine that their actions exceed the scope of typical negligence, and this can enhance your recovery.
While most personal injury claims filed end in a private settlement, there is always a chance that a case would need to be resolved in litigation if the parties involved cannot privately settle their case. If a defendant denies liability or refuses to settle for any reason, the case will need to go to court. In the event that the judge determines that the defendant's actions exceeded the definition of standard negligence, they may add punitive damages to the plaintiff's case award to punish the defendant's actions.
On the other hand, it is possible for the plaintiff to face a diminished recovery if they contributed to causing the accident. For example, if the other driver was clearly distracted and more liable for the accident, but the plaintiff was slightly speeding when the accident occurred, a judge may decide that the plaintiff is partially liable. Illinois upholds the modified comparative negligence rule, meaning a plaintiff can still recover compensation even if they are partially liable for causing their claimed damages. However, they must be less than 50% at fault. Their fault percentage is taken from their case award as a penalty, and they keep the rest. If they are 50% or more at fault, they cannot seek compensation from the defendant.
How Your Attorney Can Help With Your Distracted Driving Accident Claim
Even if the fault for your recent distracted driving accident seems perfectly clear to you, it is still crucial to have legal counsel you can trust to guide you through the difficult legal proceedings ahead of you. Filing your case correctly requires careful attention to detail. Any mistakes in the preliminary stages of an insurance claim or a civil suit could delay your proceedings and extend the time it takes you to recover compensation. Your DeKalb County distracted driving accident attorney will handle all of the procedural issues of your case and guide you through the early phases of your recovery efforts.
When it comes to your insurance claim, the insurance company will be less likely to engage in any bad faith tactics once they notice you have legal representation. Your attorney will verify that the insurance company has handled your claim in good faith, and once you complete the claim filing process, they will ensure you receive a fair settlement offer. Once you are ready to file your personal injury claim against the distracted driver who injured you, your attorney will guide you through every step of the civil claim filing process until you recover full compensation for your damages.
Every victim of a distracted driving accident in DeKalb County will face unique challenges as they seek compensation for their losses. If you have found yourself in this position and are unsure how to proceed with seeking compensation for your damages, the right attorney can make a tremendous difference in the outcome of your recovery efforts. To speak with a DeKalb County distracted driving attorney about your legal options, call our firm. Franks Gerkin Ponitz Greeley is ready to assist you. Contact us today and schedule your consultation with our team to learn how we can empower your recovery efforts.