Car accidents can happen for many reasons, often without much warning for those involved. Throughout the United States, car accidents account for a large share of the total accidental injuries and deaths recorded each year. In DeKalb County, drivers should not only know their responsibilities behind the wheel and the most common causes of accidents in the area but also what they need to do after experiencing accidents due to the negligence of others.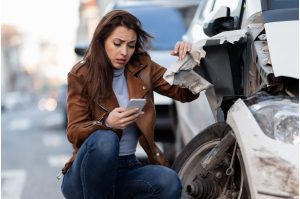 Legal Representation for Victims of Car Accidents in DeKalb County
If you or a family member is struggling with injuries another driver caused, a DeKalb County car accident attorney is an essential asset for your impending recovery efforts. The right legal team can help you approach your recovery efforts confidently, from an insurance claim against the at-fault driver to a personal injury case when insurance alone can't cover your losses.
Franks Gerkin Ponitz Greeley is a team of experienced personal injury attorneys with years of successful cases behind our team, thanks to our dedication to our clients' recoveries. We understand that you probably have lots of pressing legal questions after another driver has injured you. A DeKalb County car accident attorney can help you better understand the legal mechanisms in play in your civil court proceedings and guide you through the process of recovering your losses.
Common Causes of Car Accidents in DeKalb County
A car accident can happen unexpectedly for many reasons, but if your recent accident is the fault of another party, you need legal representation you can trust to hold them appropriately accountable for your losses. A few of the most commonly cited causes of car accidents that generate complex legal proceedings in DeKalb County include:
Speeding, which increases not only the chances of an accident happening in the first place but also the severity of the resulting damage. Excessive speeding can potentially qualify as reckless driving in Illinois, and the at-fault driver could face criminal charges in addition to a civil claim from the victim of an accident they caused while speeding. In addition, accidents that happen at higher speeds have a high chance of causing catastrophic or fatal injuries.
Distracted driving, the most commonly cited cause of all accidents throughout the country each year. Any time a driver does not pay full attention to the road ahead of them, they put themselves and others at grave risk. Unfortunately, cell phone use while driving is the most common form of distracted driving that leads to accidents in Illinois and across the United States.
Driving under the influence (DUI) of alcohol or drugs. Penalties for DUI conviction in Illinois can include driver's license suspension, fines, and jail time, but these penalties increase automatically if the defendant hurt or killed anyone.
Moving violations. The traffic laws and various signals and signs on every road exist to enable drivers to predict the actions of other drivers more accurately and to maintain a safe flow of traffic. However, any time a driver commits a moving violation, they can potentially cause a serious accident. Running red lights, performing illegal turns, or failing to navigate intersections correctly are just a few examples of moving violations that often cause accidents.
Whenever one driver causes an accident with another driver, Illinois state law dictates the at-fault driver is liable for all the damage they caused to the other driver. All drivers in the state are required to carry auto insurance that meets the state's minimum coverage requirements, but insurance may not be enough to fully repay their damages. It's also possible for an at-fault driver to not have any insurance at all, in which case the injured driver would be compelled to proceed directly to filing a personal injury case against them.
What to Expect With Your Auto Insurance Claim
Illinois law requires every driver to have auto insurance that provides at least $25,000 in bodily injury liability coverage with at least $50,000 in total accident bodily injury liability coverage, and their policy must also provide at least $20,000 in property damage liability coverage. A successful insurance claim against an at-fault driver's policy in DeKalb County could be enough to cover the damages from a relatively minor accident, but it is unwise for any victim to expect insurance alone to fully compensate their losses.
Even if the other driver is clearly at fault for your recent accident, there is never a guarantee that dealing with their insurance carrier will be easy or that it will yield an acceptable result. However, you can streamline your insurance claim process and increase the chances of maximizing your recovery with an experienced DeKalb County car accident attorney representing you. In addition, if you have a lawyer draft your demand letter to the insurance company, their representatives will be disinclined to try any unethical or bad-faith tactics in handling your claim.
Franks Gerkin Ponitz Greeley can help our clients streamline the insurance claim process after their accident; we can also resolve any disputes they encounter with an at-fault driver's insurance carrier. In addition, our team will carefully review the terms of their policy to ensure the insurance company honors its legal obligations to the claimant.
How to File a Personal Injury Case for Your Car Accident
After you have secured as much compensation as possible through the insurance claim process, your attorney can assist you in building a personal injury claim against the at-fault driver if their insurance cannot completely repay your losses. Your personal injury claim may revolve around an act of negligence or intentional misconduct from the at-fault driver. However, when it comes to proving negligence, the victim must:
Identify the driver who injured them and prove they held a duty of care in the situation in question, such as the duty to drive attentively.
Prove the defendant failed to uphold their duty of care in some way. For example, looking at a cell phone while driving would be a failure of their duty of care to drive attentively.
Provide evidence of the full scope of their resulting damage. To file a civil claim for damages, you must have suffered "actual harm" or some tangible loss you can prove resulted from the defendant's actions.
Establish causation between the defendant's actions and the plaintiff's claimed damages. In other words, the victim must be prepared to prove their losses resulting from the defendant's act of negligence or misconduct, not some other cause.
If you are able to successfully establish these factors, success with your personal injury case is likely. In the event your car accident happened because of some type of intentional and/or illegal misconduct willingly committed by the defendant, your DeKalb County car accident attorney can help you understand the legal mechanisms that are likely to come into play and how the nature of their misconduct could influence your civil case.
Damages Available in DeKalb County Personal Injury Cases
When you must file a personal injury claim against the driver who caused your recent accident, you can potentially secure compensation for the losses their insurance can't cover. If you suffered any serious injuries from the accident, the total amount of your immediate and future medical expenses could easily eclipse the bodily injury liability coverage included in the defendant's insurance policy. In addition, the total cost of repairing or replacing your vehicle could also exceed their property damage liability coverage. Illinois law allows the plaintiff in a personal injury case to seek full repayment of:
Medical expenses, both immediate and future, resulting from the accident the defendant caused.
Lost income for the time the plaintiff was unable to work after the accident.
Lost future earning capacity. If you are left disabled and cannot work after your accident, the defendant is liable for your lost future income.
Property damage, such as vehicle repair/replacement costs not covered by the defendant's insurance.
Pain and suffering compensation. There is no limit to the amount of pain and suffering compensation you can claim from the defendant in your case. Your DeKalb County car accident attorney will assist you in determining a suitable figure based on the severity of your condition after the accident.
If you intend to file any type of civil claim for damages in the state, it's important to remember the state's modified comparative negligence statute. This law upholds that a plaintiff found partially at fault for their claimed losses in a personal injury case can still recover compensation, but they lose a percentage of the final case award equal to their percentage of fault for causing the incident.
Find a Car Accident Lawyer in DeKalb County, IL Today
Regardless of how your recent car accident happened and the damages you sustained, an experienced DeKalb County car accident attorney is an invaluable asset if you intend to maximize the compensation you secure from the at-fault driver. Franks Gerkin Ponitz Greeley has years of professional experience representing clients in all manner of personal injury cases, including complex car accident claims involving substantial damages. We can help you navigate your recovery efforts after another driver has injured you. If you are ready to discuss your options for legal recourse with a DeKalb County car accident attorney, contact our team today to schedule a consultation.