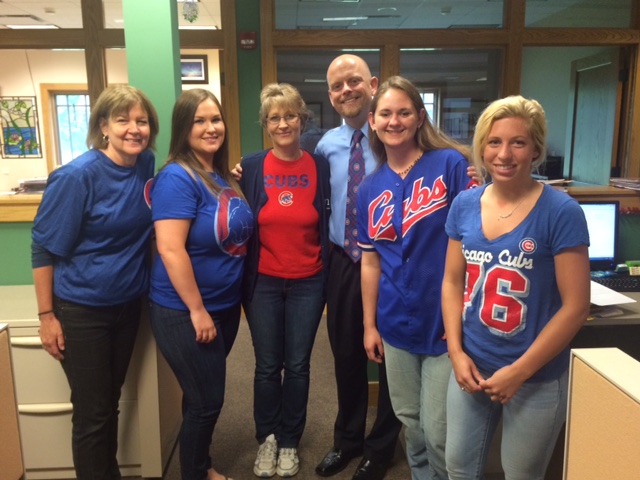 We're one team here at Franks Gerkin Ponitz Greeley, but when it comes to the Chicago Cubs versus the Chicago White Sox, we are quite the firm divided. We're united when it comes to the Blackhawks and the Bears, but baseball is another story.
For Herb and Jack Franks, the decision was easy—Go Sox! But if you asked Joe Ponitz whom he rooted for, it would be the Cubs, hands down. To show our team loyalties, we all wore our baseball gear to show support our favorite team the day before the Crosstown Classic. Check out the photos below!
But when all is said and done, we all root for the home team: sweet home Chicago.
History of the Crosstown Classic
These two teams have been playing one another since 1906 when they faced off in the World Series. Now, the series is more than just a weekend of baseball games.
It is a reminder of the tradition that is Chicago baseball. When we watch these two teams play, we remember legends like Ernie Banks and Frank Thomas. We remember the first time we saw a Chicago baseball game. We tell stories of when the Sox prevailed at the 2005 World Series.
Whether you turned your radio to WBBM, listened to the commentary of Len Kasper, or watched the game in person at Wrigley Field, we hope you enjoyed this year's crosstown classic!
The two teams will play again on August 14th, this time on the White Sox's turf at Cellular Field. You can be sure that we'll tune in.
Until then, play ball!