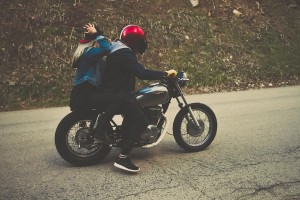 A vehicle collision of any kind is jarring and can have lasting consequences. However, motorcycle accidents are especially traumatic. Motorcycle accidents often end in injuries, and since motorcyclists don't have the defense of a car's frame, they are often the hardest hit in these collisions. Whether you are driving a car or a motorcycle, it is important to be cautious on the road, and if you get into an accident, call your personal injury lawyer right away.
What to Do After a Motorcycle Accident
Though no one believes that an accident will happen to them, it is important to be practical and prepared about motorcycle accidents. The more you understand what to do, the better your chances of earning compensation for your motorcycle injury and damages. Following a few simple steps could ensure that your medical bills are handled, and that your life continues as normal. If you get into a motorcycle accident, do the following:
Assess yourself for injuries. If you are injured, stay where you are until help can assist you.
Call the authorities.
Take the other driver's information, including name, contact information, insurance, and license information.
Take pictures of the scene, including damages, injuries, road and traffic signs, etc.
Collect witness stories and contact information.
Contact your Illinois motorcycle accident lawyers.
During this process, be sure to avoid apologizing or saying anything that could inadvertently admit fault. Even if that isn't what you were intending, insurance companies will take your words out of context in order to avoid financial responsibility.
Common Motorcycle Accident Injuries
There is a wide range of injuries that can occur during a motorcycle accident, but there are a few that are particularly common. These include:
Traumatic brain injuries
Bone breaks and fractures
Internal injuries
Road rash
Spinal cord injuries
Diminished mental health or PTSD
Though not all of the above injuries are of equal severity, they all warrant proper medical treatment and care. Traumatic brain injuries and spinal cord injuries are especially concerning, and it is important to seek medical help.
What Is The Most Common Major Motorcycle Injury?
The most common injuries in motorcycle accidents are injuries of the head and neck. Because you are exposed when riding a motorcycle, these areas are vulnerable. Your head is one of the heaviest parts of the body, and therefore is more likely to hit the ground first if you are thrown into the air. Because there are no seatbelts in motorcycles, getting ejected from your vehicle is not uncommon during a crash. Head and neck injuries are the most common in motorcycle accidents, and unfortunately they are also the most lethal.
Settlements
The main purpose of motorcycle accident settlements is to ensure that you are not financially devastated by the medical bills that the collision caused. This is especially true if the accident was not your fault. If another driver hit you and you were injured, your finances should not suffer. Unfortunately, the only way to ensure that you are not financially responsible is to seek a settlement from the other driver or their insurance company. This money can be used for a variety of medical support resources, including:
Surgery
Physical therapy
Ongoing doctors' appointments
Specialized care
Therapy or mental health care
There are also non-medical expenses that go into your settlement sum. These include:
Compensation for lost wages during recovery time
Compensation for diminished ability to do your job
Ongoing pain and suffering that cannot be remedied
Your McHenry County motorcycle accident attorneys can help you to determine what you are eligible for, and what should be considered in your case.
Should I Get A Lawyer For A Motorcycle Accident?
For an accident of any kind, but especially for a motorcycle accident, it is imperative that you find an attorney that you trust. Insurance companies will do everything in their power to avoid paying for your injuries. Many of their tactics are sneaky, and without an attorney you can easily fall prey to their methods. In some cases, the insurance company will contact you soon after the accident to try and get you to admit that you are okay, thus waiving their obligation to pay. In other cases, they will have you followed to ensure that you are as injured as you claim to be. Without an attorney to field their calls, you will likely end up with a low settlement, if you get any settlement at all.
Who Is At Fault In Most Motorcycle Accidents?
Generally speaking, car and truck drivers are more often at fault for motorcycle accidents. The drivers of these vehicles are responsible to watch the road and pay attention to drivers around them. Many times, they fail to see motorcyclists because they have a smaller profile than cars. This is the fault of the car driver, not the motorcyclist.
What Compensation Do Accident Lawyers Take?
The percentage that an accident attorney will take from your settlement will depend upon the situation. The general range is anywhere from 33-40%, but this can fluctuate depending on your situation and the amount of work required in your case. It is always best to talk with your attorney about their fees before beginning a case, to ensure that you are not surprised or confused when the case comes to a close. Each attorney is different, and it is best to be clear and direct about your budget and needs.
Contact Illinois Personal Injury Lawyers Franks Gerkin Ponitz & Greeley
No one in McHenry County can better support you during your motorcycle accident case than the expert attorneys at Franks Gerkin Ponitz & Greeley. We have been serving our community for decades, both inside and outside of the courtroom, and would be honored to help you through this difficult time. We treat all of our clients with empathy and support, and understand that accidents are emotional and stressful for you and your family. We will help to ensure that you are not financially responsible for your injuries when you should not be, and help you to gather the resources to make a full recovery.
However, motorcycle accident cases need to begin soon after the collision. There is no time to waste. Don't wait, contact us today.