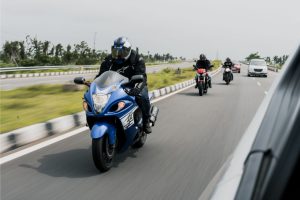 Riding a motorcycle can be exhilarating, and lots of people in Lake County love riding them. However, no matter how long you've been enjoying the thrill of motorcycle rides, it is important to acknowledge the safety risks of riding. Even if you wear a helmet and safety gear, a motorcycle accident can cause serious, life-threatening injuries and even be fatal.
If you or someone you love has had the misfortune of being in a motorcycle accident, having a motorcycle accident lawyer is essential. Unfortunately, there is a lot of social stigma surrounding motorcycles, and people are often quick to place blame on bikers in an accident. However, the misconduct of other drivers is often a factor in motorcycle accidents. Our personal injury lawyers at Franks Gerkin Ponitz Greeley can analyze what you went through on the road and determine who is responsible for the accident. Your attorney can hold other parties accountable with a personal injury claim and fight to get you the compensation you deserve.
What Should I Do After a Motorcycle Accident in Illinois?
A motorcycle accident can change your life forever in a split second. It may take a while to process what has happened and address any physical injuries and property damages. However, there are legal steps that need to be promptly taken. Hiring an attorney can help ease your mind, as they can handle the administrative steps that are required after the accident.
After being involved in a motorcycle accident, you will need to file an auto insurance claim. The minimum coverage policy must include at least $25,000 in bodily injury liability coverage per person in an accident caused by the policyholder and at least $50,000 in total accident coverage. It must also include at least $20,000 in property damage coverage.
If your insurance claim cannot compensate for all the losses another driver caused you, you can file a personal injury claim. Filing a personal injury claim is the most effective way to recover outstanding damages that can add up after a motorcycle accident. For example, a personal injury claim might help you cover expensive medical treatment to address physical injuries, lost income from time away from work during recovery, and any property damages that insurance did not cover. However, receiving this compensation will require proving that the other driver's actions caused damages or wrongful death. Gathering and presenting this evidence can be difficult by yourself, but our team of Lake County motorcycle accident lawyers can make it easier for you.
Why You Need a Lake County Motorcycle Accident Injury Attorney
A motorcycle accident can be traumatic, and you might be dealing with serious life-changing injuries or tragic losses in the aftermath. Contacting an attorney to help you file your insurance claims and, potentially, a personal injury claim can help reduce the stress you face while you recover from your injuries.
Technically, you can file insurance and personal injury claims on your own, but the process involved is quite complicated. Even a small mistake in your paperwork could jeopardize your case. You will also need to prove that another driver's negligence or misconduct caused you harm, and it can be difficult to find evidence on your own. For example, if you think that the other driver was distracted behind the wheel, you might wonder how you can prove this.
Your Lake County motorcycle accident attorney can draft your demand letter to the insurance company, which may speed up your claim process. Your lawyer can also help you build a strong personal injury claim by gathering any evidence that you might have overlooked. They can also secure eyewitness statements that support your case.
A motorcycle accident attorney can also help you understand Illinois' laws regarding motorcycle accidents. For example, if you are partially responsible for the motorcycle accident, you can still receive compensation, but it depends on how much damage you caused. The Illinois modified comparative negligence law states that an injured party can only recover damages if their share of the responsibility for the accident is less than 50%. Your fault percentage determines how much of the case award you will lose, and if you caused more than 50%, you are barred from claiming any compensation. Understanding your fault percentage and what you are entitled to can be difficult without an attorney, especially if you are dealing with painful injuries and the financial strain caused by the accident.
What Is the Statute of Limitations for Motorcycle Accidents in Illinois?
The statute of limitations for a motorcycle accident in Illinois is two years. This means that, if you've been injured in a motorcycle accident and want compensation to cover the damages you've endured, you have to do it within two years of the accident. Fighting for compensation soon after such a jarring event may seem daunting, but if you have the right Lake County motorcycle accident lawyer on your side, you have a high chance of getting fairly compensated. Time is of the essence, and the sooner you work with an attorney who fights for you, the sooner you can receive compensation for your losses.
Find a Trustworthy Lake County Motorcycle Accident Lawyer
At Franks Gerkin Ponitz Greeley, we understand how a motorcycle accident can permanently change your life in a matter of seconds. Nothing can erase the pain of losing a loved one or enduring permanent physical injury, but getting fully compensated for damages can make life easier in this incredibly stressful time. We fight fiercely for our clients, and we want to provide you with compassionate support and legal guidance in this horrible situation.
The last thing you need after the pain and stress of a motorcycle accident is to navigate a complex legal process alone. If you have been injured in a motorcycle accident, or if someone you loved has been injured or killed in a motorcycle crash, please contact our experienced team of Lake County motorcycle accident attorneys. We are ready to consult with you on your case, address any questions or concerns you may have, and fight for you so you can recover worry-free.