Employers must keep the workplace safe and hazard-free. Nonetheless, accidents and injuries continue to occur on a regular basis throughout Illinois, with nearly 154,600 non-fatal workplace injuries and illnesses reported in 2012 alone.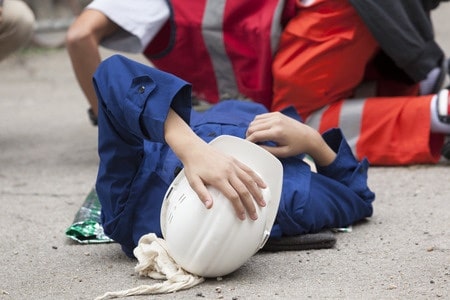 Workers who are injured or become ill due to an event or exposure at work generally file a workers' compensation claim to get benefits. But there are some rare cases that may allow the injured worker to sue the employer.
Determining your options and the best course of action for a particular case will depend heavily on the facts of the case, and the attorneys of Franks Gerkin Ponitz Greeley will fight for you every step of the process.
Workers' Compensation
In most cases, injured workers must seek compensation under their employer's workers' compensation policy. Workers' compensation payouts can be relatively straightforward and may offer additional benefits if a worker suffers a disabling injury.
The worker does not have to prove fault; only that the injury is work-related and occurred within the scope of his or her employment. Workers' compensation gives workers the benefits they need without proving fault and liability, but it simultaneously protects employers from lawsuits. An injured worker is usually unable to sue the employer for an injury, which means he cannot receive compensation for pain and suffering, mental anguish, or any other non-economic damages that would be available to him in a civil lawsuit. There are, however, exceptions.
When can I sue my employer?
If a third party caused your injury, you may file a lawsuit against that party. Keep in mind, though, that you would file the lawsuit against the third party, not your employer.
Injured workers are able to sue their employer if the employer intentionally caused them harm. For example, if the employer assaults the worker during an argument, the injured worker may be able to sue the employer.
Illinois does not allow workers to sue an employer based on gross negligence. The employer must have intended to cause the worker harm in order to be liable in an injury lawsuit. A worker may also file a lawsuit if the employer does not carry workers' compensation insurance.
Personal injury claims can bring a much more lucrative settlement or verdict than a workers' compensation claim. Workers can seek pain and suffering and other emotional damages if they file a personal injury lawsuit rather than going through the workers' compensation system.
However, the process may take longer and may involve counterarguments and defenses by the employer, whereas workers' compensation is a no-fault system. When filing a personal injury claim, it is necessary to work with an attorney to build your case and prepare for defenses the employer might present to avoid liability.
Franks Gerkin Ponitz Greeley Fights for Clients
If you are considering a lawsuit against your employer, or if you are not sure whether you qualify to file one, please do not hesitate to call an attorney at Franks Gerkin Ponitz Greeley in McHenry County, Illinois. We see our clients as family and will act as equalizers when battling employers or insurance companies to give you the representation you deserve. Contact us today at 815-923-2107. Hablamos Español.