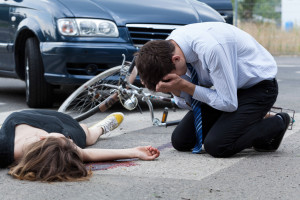 The number of fatal car accidents involving pedestrians in McHenry County surged last year, with 22% of all fatal car crashes involving pedestrians. From 2011 to 2014, the percentage of pedestrian accidents dropped in McHenry County. However, that streak of good fortune has come to an end.
Out of 18 fatal crashes last year on local roadways, four caused pedestrian deaths. It is in hopes that the sudden increase was an anomaly, but local officials aren't taking any chances. The Northwest Herald recently reported on a number of new ideas to better protect pedestrians:
"In Crystal Lake, administrative analyst and chairman of the city's Traffic Safety Committee Jeff Mawdsley said the city installed six rectangular flashing beacons at various intersections to improve pedestrian crossings. One of them installed in 2015 was at the intersection of Ackman Road and Westport Ridge to help students safely cross Ackman when walking to Crystal Lake South High School."

"Among upcoming projects to reduce risk for pedestrians is one to redesign a route to the Prairie Path, so it avoids the crossing of Route 176 and Glen Avenue and instead shifts people to Route 176 and Walkup Road, which has a signal."
The 2040 Long Range Transportation Plan was passed in 2014. Since then, the county has up to $63 million to spend on pedestrian and bicycle paths between now and 2040. Already, local officials are encouraging residents to get proactively involved in pedestrian safety.
"Several of the pedestrian safety improvements done in the past several years are the result of the committee researching concerns submitted by residents and implementing solutions to address those concerns," Mawdsley wrote recently.
Illinois Pedestrian Laws: Do Pedestrians Have the Right of Way in Illinois?
So, here's the commonly asked question: do pedestrians have the right of way?
Short answer? That depends…
In a marked crosswalk, pedestrians mostly have the right of way. However, they must yield to drivers already at or approaching the intersection. At the same time, Chapter 11 of the Illinois Vehicle Code explicitly places a special responsibility on drivers. This was for drivers to watch out for bicyclists and pedestrians on the roadway, especially near intersections, school zones, and crosswalks.
The code reads, "every driver of a vehicle shall exercise due care to avoid colliding with any pedestrian, or any person operating a bicycle or other device propelled by human power and shall give warning by sounding the horn when necessary and shall exercise proper precaution upon observing any child or any obviously confused, incapacitated or intoxicated person."
Just How Dangerous Is Being a Pedestrian? What to Do After Getting Hit By a Car
From Illinois Department of Transportation data, we know that there were only a handful of fatal accidents involving pedestrians over the past five years. Statewide, there were 4,637 crashes involving pedestrians in 2014 (the last year that data is available). This caused 4,402 pedestrian injuries and 127 pedestrians deaths. The vast majority of these incidents occurred on urban state routes and city roadways. Look closely at this data…you'll find that being an Illinois pedestrian could be more dangerous than being a motorcyclist. In 2014, 118 motorcyclists died and 2,693 were injured, far below the number of injured pedestrians.
If you're involved in a pedestrian accident, Franks Gerkin Ponitz Greeley personal injury lawyers say there are steps you should take immediately to protect yourself. Most importantly, and above all else, keep yourself safe.
Assess your safety. Move away from dangerous areas and get to safety as quickly as possible.

After an accident, seek medical attention right away.

If possible, speak with the drivers involved and record their information.

Document all medical bills and receipts. Take detailed photos of your injuries throughout the recovery process.
Finally, if you've been injured in a collision or car accident and believe the other driver was at fault, then you should consider consulting McHenry Country personal injury lawyers at Franks Gerkin Ponitz Greeley. Pedestrian accident lawyers can help you fight to recover losses. Some of these losses include: lost earnings, loss of future earnings, medical bills, future medical care, disfigurement, emotional trauma, pain and suffering, and funeral expenses in wrongful death claims.